Summary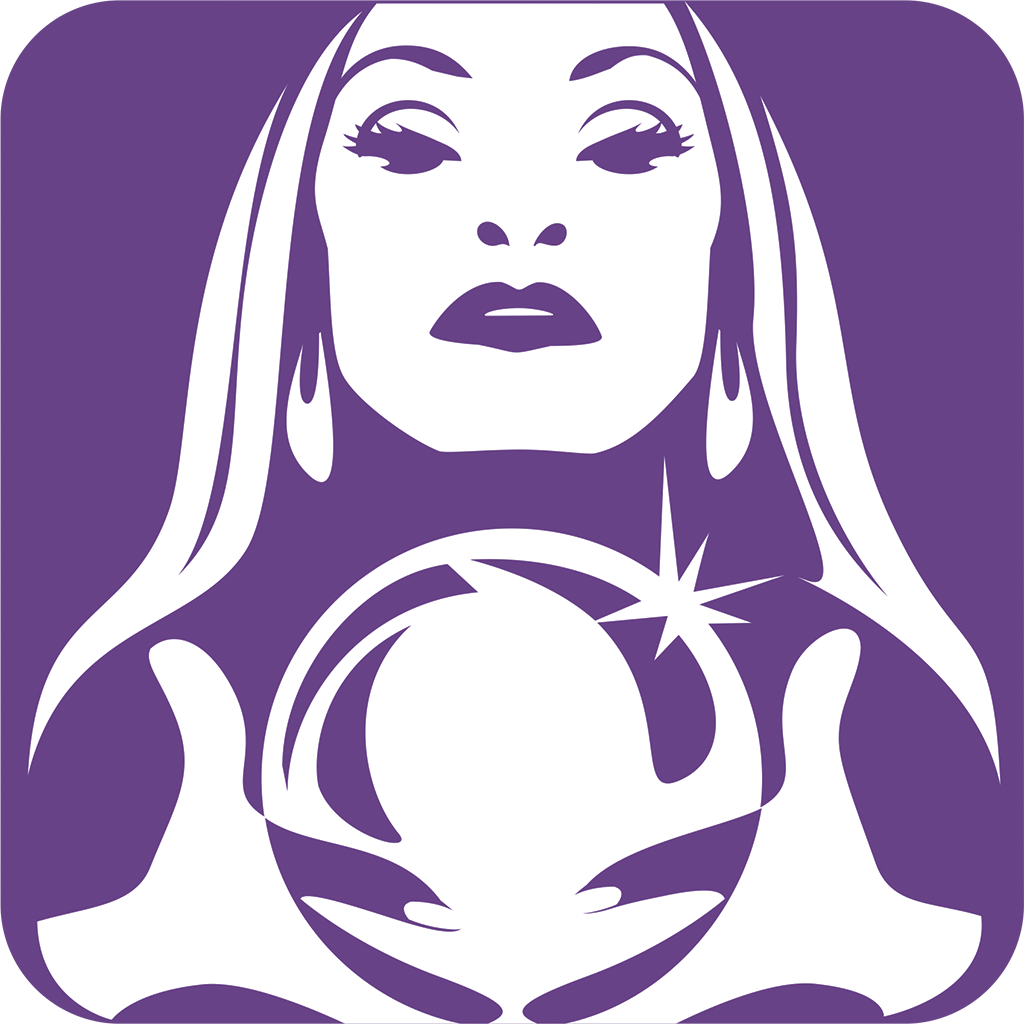 Live Psychic Chat App (LPC) was launched in 2015 and its popularity has been on rise since then. Liked by both psychic advisors and customers, this app has become the no. 1 choice for both customers and advisors. With very strict onboarding criteria, LPC takes only highly skilled, gifted and trustworthy psychic advisors on its platform. This is one of the main reason why this psychic app has remain one of the best psychic app. Live Psychic Chat App is available on web, iOS and Android platforms. All of the apps i.e. Web, iOS and Android apps, are powered by the same system so you can use any platform to get reading and it all works seamlessly across all the platforms.
Get Live Psychic Chat App
Pros & Cons
Pros
Experienced, gifted and trustworthy psychic advisors
Low cost
Free credits and opportunity to earn more free credits via various methods
Excellent customer services
No advertisement/promotional emails or notifications
Personal Psychic Advisor & Life Coach
Freedom to choose your personal psychic advisor
Cons
Message readings can be delayed
No coupons offered
No horoscope
Pricing
Price starts from as low as $0.99 for message, live chat, phone or video reading. The prices are set by psychics themselves so it is very flexible for both advisors and customers. Customers can even request advisors to lower the rate if they feel it is high. Customers have flexibility to purchase credit as much as they need or higher amount. LPC doesn't force customers to purchase any more credit than required.
Does LPC Offer Free Readings To New Customers?
Yes, LPC offers free and unconditional $3.99 credit to new customers which can be used with any advisor. On top of that, customers can also earn free credits via various methods.
How To Earn Free Credits on Live Psychic Chat Mobile App?
Go to More -> Earn Cash & Free Credits and click on various menus to earn free credit.
New customers get free $3.99 credit.
Check-in every hour to earn free credit
Take quiz and earn cash for answering correct questions
Refer and earn 5% life time revenue share
Verify your email, phone number, ID and address proof to earn credit
You can also report bugs and earn free $10 credit if bug is accepted.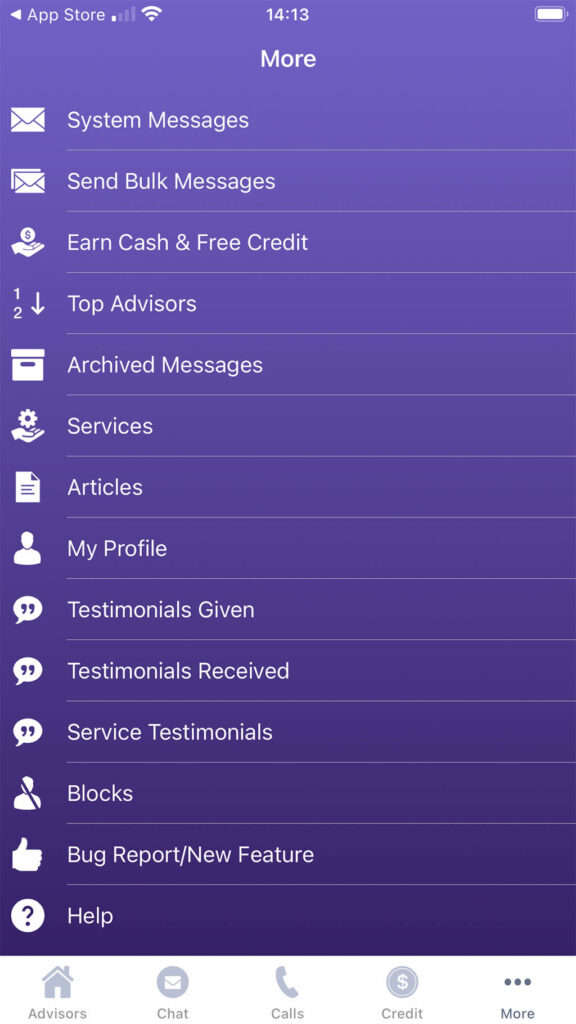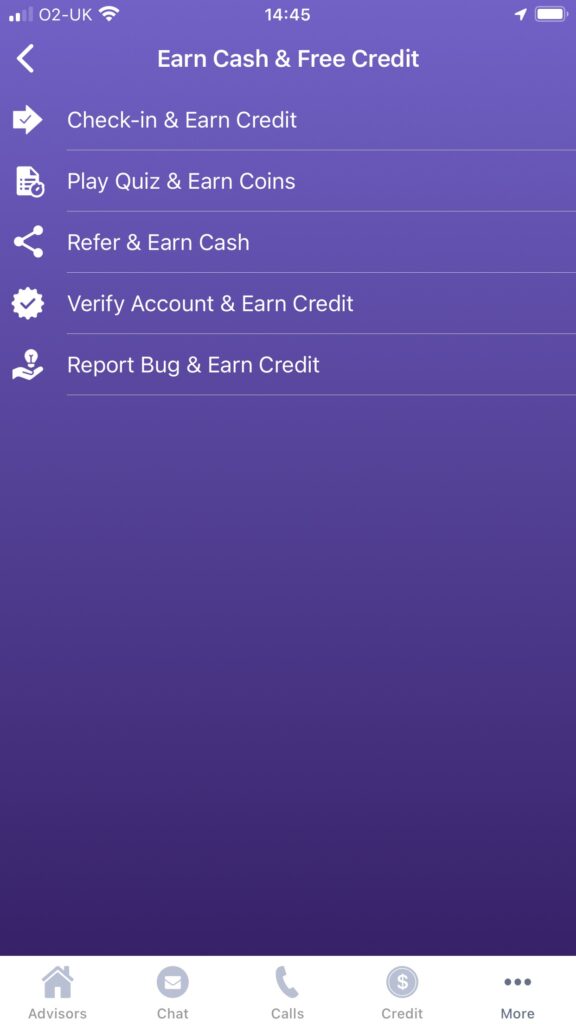 Payment Options
LPC offers one of the widest payment options for the customers. Following payments are available for customers
Apple Pay
Google Pay
Credit/Debit Card
Paypal
On iOS app and Android app customers can use payment methods allowed in In-App Purchases.
Is Live Psychic Chat App Legit?
LPC is a marketplace and not an employer for psychic advisors. LPC is a marketplace connecting psychic advisors and customers. It is a legit business. The questions we should be asking is if advisors on LPC are legit? LPC has very strict criteria for accepting experienced and gifted psychic advisors so psychic advisors on this app are legit.
Live Psychic Chat Web App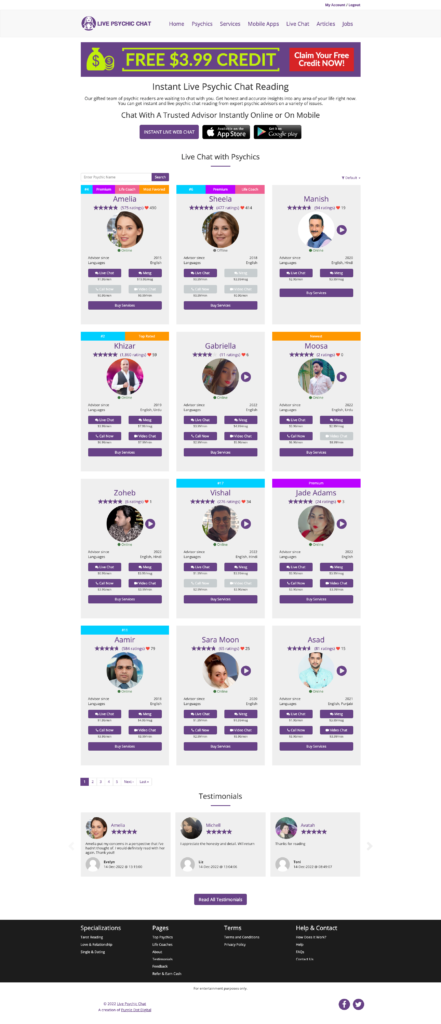 Live Psychic Chat Web App lets customers to connect with psychic advisors on the website. Customers can use any computer devices including mobile phones and web browser to get reading.
The advantage of using web app is that you have several choices for purchasing credit. You can use Credit/Debit card, Paypal, Apple Pay and Google Pay to purchase credit. You can get message reading, live chat, phone reading and video chat reading on web app. The web app has another advantage if you are using computer as you can type faster on the keyboard then you normally do on the mobile apps which gives you more time to ask questions during live chat.
Please note that web app may not work on all browsers for phone and video reading if you are using mobile web browser. It is better to use mobile apps from mobile phone than web app.

Live Psychic Chat iOS App (iPhone & iPad)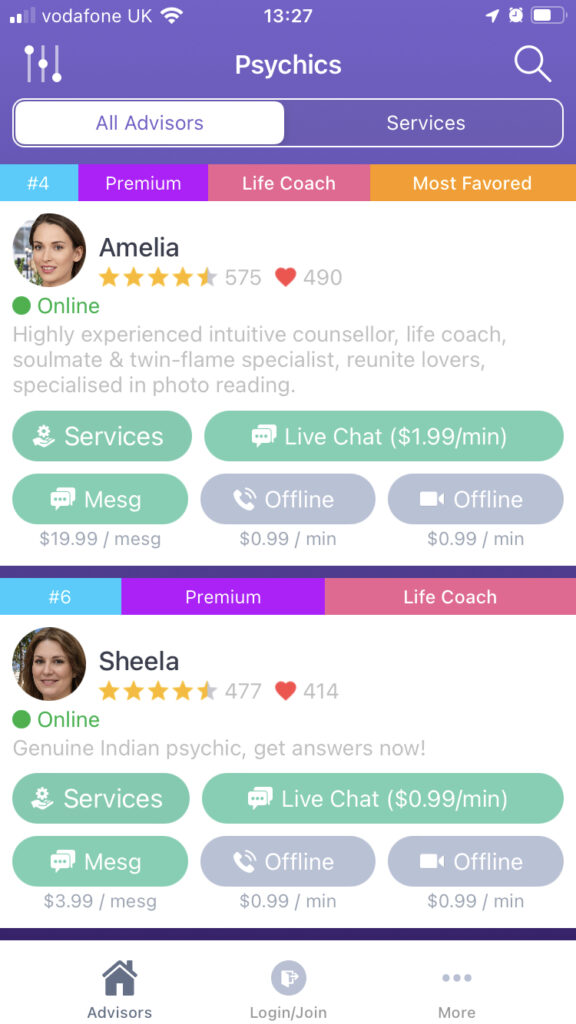 Live Psychic Chat iOS App is available on iPhone and iPad. This app is full with various features which are not found in any other psychic app.
What we like most is that you can see all the psychics on the home page itself, scroll to see psychic's details, reviews and instantly connect with a psychic of your choice with one click from the home screen itself.
You can see psychic's ranking, and various other features.

Android App
Type of Readings Offered
Love & Relationship Reading
Finance & Career
Photo Reading
Aura Reading
Dream Interpretation
Pet Psychics
Crystal Readings
Palm Readings
You can see the full list of readings offered on the Specializations section.
Customer Service
Live Psychic Chat App has excellent customer services. They provide support via chat from within the app, email and WhatsApp. Your queries are guaranteed to be replied within few work hours. You can also connect with them on their Facebook and Twitter accounts.
WhatsApp is the quickest way to connect with them.
Refund Process
You can request refund by contacting support. Refund process is very easy, they offer instant refund of credit.
Verdict
Live Psychic Chat App is one of the best psychic app as marketplace connecting psychic advisors and customers. It offers low cost psychic services for the customers and plenty of ways to earn free credits. This app is free from any advertisements. It is legit and it has some of the best gifted psychic advisors on its network.